Spray Cabinets
Choose from one of the most diverse product offerings in the marketplace with over 17 standard models of spray cabinets to choose from, and custom units with turntable diameters up to 120" and weight capacities up to 50,000 pounds.
The PCS line of cleaning systems come equipped with the following features as standard:
Vertical Pump Systems ~ Reliable and efficient
Watlow Heat Elements
Industrial Controls ~ Lighted Switches
Mechanical Door Seals ~ No rubberized seals that WILL leak!
Large Swing-Out Doors for Full Access ~ There is not a more accessible turntable on the market
Low Water Shut-Off ~ Protect your heat elements from low water conditions
Swing away Spray Manifolds ~ For better impingement on smaller parts
Optional Equipment for PCS lines:
Disc Style Stainless steel Oil Skimmer
Oil coalescing systems
Stainless Steel Construction – SS Package
Stainless Steel Construction with All Wetted Components- SS2 package (minus pump head)
Particulate Bag Filtration
Re-circulating and non-recirculating rinse stages
Heated and non heated blow off stages
Sludge extraction systems
Steam exhaust systems
Weight capacity upgrades
Gas and Steam heat options
Dual turntable options
Custom fixturing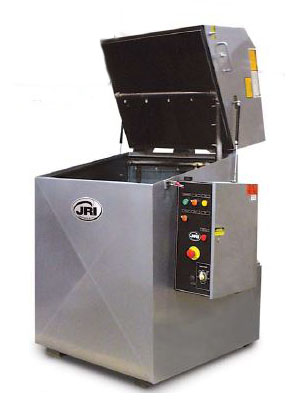 Top Load
Easy loading; small footprint.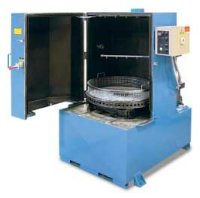 PCS
Front door swings out.  Our most popular cabinet washer.

Vertical Door Washer
Door orientation allows for the elimination of the swing for small cabinet footprint.
Orca Front Load – Wash Only
Can handle heavy or light-cleaning.
Faster than manual washing – lowers labor costs.
Heavy-duty design.
Seven-Day Programmable Timer for Heat and Oil Skimmer.
No chains, belts, or tire drives to service or replace.
Roll-door and top-loading means small footprint.
Forklift access pockets.
Auto water-fill.
Low water shut off
Swing down spray bar
Chip basket
230V 3 phase or  460V 3 phase
Model 2532
OVERALL DIMENSIONS 36″L x 51″W x 68″H
SHIPPING DIMENSIONS 42″L x 57″W x 76″H
Model 3142
OVERALL DIMENSIONS 42" L x 56" W x 78" H
SHIPPING DIMENSIONS 48" L x 62" W x 86" H
Model 3648
OVERALL DIMENSIONS 47" L x 65" W x 85" H
SHIPPING DIMENSIONS 53" L x 71″ W x 91" H
Video link https://vimeo.com/374948607