Ambient Air Cleaners
The CDC issued guidance for employers in essential industries (in part) — Do increase air exchange in the building.
Engineering controls involve isolating employees from work-related hazards. In workplaces where they are appropriate, these types of controls reduce exposure to hazards without relying on worker behavior and can be the most cost-effective solution to implement. Engineering controls for SARS-CoV-2 include:
Installing high-efficiency air filters.

Increasing ventilation rates in the work environment
U.S. Department of Labor Occupational Safety and Health Administration
OSHA 3990-03 2020
Series 3000 Ambient Air Cleaners
Series 3000 Ambient Air Cleaners are designed to collect, dust smoke and other airborne particulates with a 3 stage filtration system consisting of MERV 7 prefilters, MERV 8 Panel filter and MERV 14 primary multi-pocket bag filters. The T configuration of drawing dirty air in through the sides and exhausting clean air out creates a circular airflow pattern in your shop to quickly and efficiently clean and exchange the air.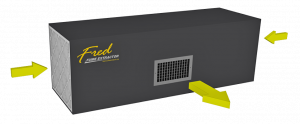 These ambient air cleaners are constructed using powder coated steel. The modular configuration of the Filterhawk allows units to be combined with multiple modules in a double or quad setup to increase the amount filter media. The air cleaners can be easily installed in your facility with an optional wall mounting bracket or eyebolts to hang the units with chains. Ideal applications for the AM-Series-3000 include welding smoke and fumes, wood dust, and grinding dust.
Options
Wall-mounting Bracket

Baffle Impingers

Magnahelic Gauge

Manometer

Carbon Odor Absorption Kits

Factory-installed Eyebolts

HEPA Filter

Spark Baffles
Features
3000 CFM, 1.5 HP TEFC Motor

Powder-coated Steel Interior Frame

Lightweight Black Matte Recycled Polyethylene Plastic Panels

Chain-hung or Wall-mounted
Benefits
Cost effective, energy efficient units

Modular design, multiple configurations

Quick install, no ductwork required
Ambient air cleaning air flow diagram. Dirty plant air is drawn through powerful filtration units and returned to the plant as clean air thus eliminating a significant heat loss that is common when air is exhausted outside.
Clean Air DFX™ Air Cleaner
Compact and Powerful Ambient Air System
The Clean Air DFX™ Unit is a compact continuous duty and self contained ambient air cleaning system. Each unit consists of housings with fan, motor, integral, silencer and filters. The pollutant air enters the system at the filter side of the system and moves through various filters to achieve the desired cleaning. The air is then exhausted by the blower fan wheel through the acoustically lined blower's side outlet.
Clean Air DFX™ Air Cleaner Flexibility 
The DFX™ units can be hung in a circular pattern of general air cleaning, can be set on legs, and can be connected to ducting for direct source capture. The DFX™ units can house a wide variety and combination of filters depending upon the application. 
The backward incline blower wheels and TEFC energy efficient motors ensure high performance even when the filters are getting dirty.  Also, the TEFC energy efficient motor/blower package is direct drive and do not require any maintenance unlike other belt driven motors. The components are in a very sturdy cabinet that will handle many years of use in an industrial environment.
Filters Ranging From 95% ASHRAE To 99.97% DOP HEPA Efficiency.