Wet Dust Collectors utilize a water-filter system to collect aluminum, titanium, mixed metals, and other volatile dusts. Meeting OSHA and NFPA regulations for dust removal located inside buildings. Wet Collectors are available in a choice of ducted collectors, self-contained downdraft tables or environmental booths.
No replacement filters required
No compressed air required
Dust collectors for volatile dusts may be placed inside building
Filtered air may be re-circulated for savings on cooling and heating costs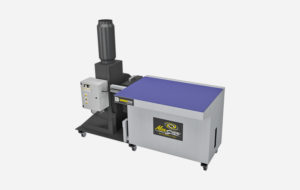 If you process or finish metals that can create explosive dusts, (Aluminum, Magnesium, Niobium, Tantalum, Titanium, or Zirconium), one way or another NFPA 484 Standard for Combustible Metals applies to you. If your city has adopted the International Building code, it also refers back to the NFPA code. OSHA and your own fire and liability insurance carrier may also have an interest in your compliance to this code.