Blast-It- All
Blast-It-All is an industry leader in multiple equipment categories.  They offer a variety of products ranging from blast cabinets to blast rooms.  Offerings include custom built machinery designed to specifications, as well as affordable models ready to ship and operate!
If you are looking to replace or add air blast equipment in your manufacturing facility, we have some great news!
Blast-It-All just announced a 5-year warranty program on all  blast cabinets, automated systems & blast rooms!
Now through June 30th, 2018,  we are offering special 3.9% low interest leasing on their equipment with a minimum order of $10,000.
They offer a wide selection of air blast cabinets, tumble blasters and blast rooms.
Contact your Blast & Wash Systems representative to take advantage of this special offer for capital equipment.
BLAST-IT-ALL® CONVEYOR WITH ROTATING HEAD
BLAST-IT-ALL INSTALLING SNAP-IN GLOVES
Blast Cabinet 4836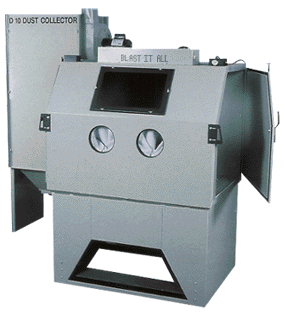 General Information
4836 Cabinet with Reclaimer and Dust Collectors
| | | | | | |
| --- | --- | --- | --- | --- | --- |
| Model Number | Reclaimer/CFM | Dust Collector | Estimated Shipping Weight (lbs) | Floor Area Required (W) | Floor Area Required (D) |
| 4836-4 | 400 | Bag | 670 | 129″ | 108″ |
| 4836-4DC | 400 | D10 DC | 1030 | 129″ | 114″ |
| 4836-7 | 700 | Bag | 720 | 129″ | 108″ |
| 4836-7DC | 700 | D10 DC | 1380 | 129″ | 114″ |
| 4836-7M2DC | 700 | M2DC | 1160 | 129″ | 114″ |
| 4836-9-3 | 900 | (2) Dust Bags | 800 | 129″ | 120″ |
| 4836-9-DC-3 | 900 | D20 DC | 1200 | 129″ | 120″ |
| 4836-9M4DC-3 | 900 | M2DC | 1280 | 129″ | 120″ |
| 4836-9-RPJ2 | 900 | RPJ2 (Dust Drawer) | 1300 | 129″ | 120″ |
| 4836-9-RPJ2-3 | 900 | RPJ2 (Dust Hopper) | 1340 | 129″ | 120″ |
** View Page With Larger Screen To See Data Tables**

Floor Area Required Shown With 700 CFM Reclaimer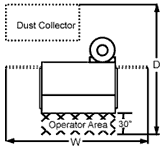 | | | | | |
| --- | --- | --- | --- | --- |
| A | B | C | D | E |
| 33″ | 40″ | 19″ | 15″ | 25″ |
Reclaimer and Dust Collector
Cabinet Construction:
14 Gauge Reinforced Continuously Welded
High Angle Sump
Finish:
Durable Enamel
Primed and Painted. Corrosion Resistant
Working Chamber:
Dimensions: 48″W x 36″D x 42″H
Double Walled Doors
Safety Door Interlocks
Self Adjusting Door Latches
Knife Edge, Self Sealing, Full Gaskets
Full Length Hinges
Viewing Window:
12.5″H x 21″W
Quick Change, Square Cornered,
Tempered Glass
Mylar Protector
Lighting:
Single, Two-Tube, 24″ Fluorescent Fixture Low
Temperature, Shielded, Externally Located
120 V 60 Hz
Foot Valve:
For instant Changing From Right to Left Foot
On/Off Air Logic Controls
Media Blasting Gun:
Lightweight Aluminum Pistol Grip,
5/32″ Air Orifice Standard
4/32″, 6/32″, 7/32′ Orifices Optional
Operated Right or Left Handed
| | | | | |
| --- | --- | --- | --- | --- |
| Air Requirements (CFM) | Gun # | 40 PSI | 60 PSI | 80 PSI |
| 1/4″ nozzle, 1/8″ Orifice | 4 | 12 | 17 | 21 |
| 5/16″ nozzle, 5/32″ Orifice | 5 | 19 | 27 | 34 |
| 3/8″ nozzle, 3/16″ Orifice | 6 | 27 | 37 | 47 |
| 7/16″ nozzle, 7/32″ Orifice | 7 | 38 | 52 | 66 |
Gloves:
Abrasive Resistant, Cloth Lined, Snap-In Ports, Static Resistant Gauntlet
Hoses:
1/2″ ID. Lightweight, Flexible, Abrasive Resistant
Blow-Off Gun:
Fingertip Control Blow Off Nozzle