If you are looking to replace or add air blast equipment in your manufacturing facility, we have some great news!
Blast-It-All just announced a 5-year warranty program on all  blast cabinets, automated systems & blast rooms!
Now through June 30th, 2018,  we are offering special 3.9% low interest leasing on their equipment with a minimum order of $10,000.
They offer a wide selection of air blast cabinets, tumble blasters and blast rooms.
Contact your Blast & Wash Systems representative to take advantage of this special offer for capital equipment.
BLAST-IT-ALL® CONVEYOR WITH ROTATING HEAD
BLAST-IT-ALL INSTALLING SNAP-IN GLOVES
Blast Cabinet 4836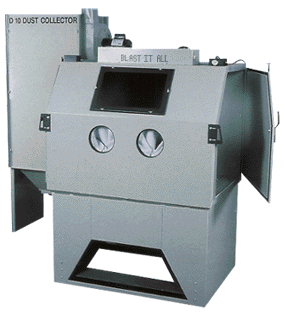 General Information
4836 Cabinet with Reclaimer and Dust Collectors
| | | | | | |
| --- | --- | --- | --- | --- | --- |
| Model Number | Reclaimer/CFM | Dust Collector | Estimated Shipping Weight (lbs) | Floor Area Required (W) | Floor Area Required (D) |
| 4836-4 | 400 | Bag | 670 | 129″ | 108″ |
| 4836-4DC | 400 | D10 DC | 1030 | 129″ | 114″ |
| 4836-7 | 700 | Bag | 720 | 129″ | 108″ |
| 4836-7DC | 700 | D10 DC | 1380 | 129″ | 114″ |
| 4836-7M2DC | 700 | M2DC | 1160 | 129″ | 114″ |
| 4836-9-3 | 900 | (2) Dust Bags | 800 | 129″ | 120″ |
| 4836-9-DC-3 | 900 | D20 DC | 1200 | 129″ | 120″ |
| 4836-9M4DC-3 | 900 | M2DC | 1280 | 129″ | 120″ |
| 4836-9-RPJ2 | 900 | RPJ2 (Dust Drawer) | 1300 | 129″ | 120″ |
| 4836-9-RPJ2-3 | 900 | RPJ2 (Dust Hopper) | 1340 | 129″ | 120″ |
** View Page With Larger Screen To See Data Tables**

Floor Area Required Shown With 700 CFM Reclaimer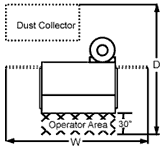 | | | | | |
| --- | --- | --- | --- | --- |
| A | B | C | D | E |
| 33″ | 40″ | 19″ | 15″ | 25″ |
Reclaimer and Dust Collector
Cabinet Construction:
14 Gauge Reinforced Continuously Welded
High Angle Sump
Finish:
Durable Enamel
Primed and Painted. Corrosion Resistant
Working Chamber:
Dimensions: 48″W x 36″D x 42″H
Double Walled Doors
Safety Door Interlocks
Self Adjusting Door Latches
Knife Edge, Self Sealing, Full Gaskets
Full Length Hinges
Viewing Window:
12.5″H x 21″W
Quick Change, Square Cornered,
Tempered Glass
Mylar Protector
Lighting:
Single, Two-Tube, 24″ Fluorescent Fixture Low
Temperature, Shielded, Externally Located
120 V 60 Hz
Foot Valve:
For instant Changing From Right to Left Foot
On/Off Air Logic Controls
Media Blasting Gun:
Lightweight Aluminum Pistol Grip,
5/32″ Air Orifice Standard
4/32″, 6/32″, 7/32′ Orifices Optional
Operated Right or Left Handed
| | | | | |
| --- | --- | --- | --- | --- |
| Air Requirements (CFM) | Gun # | 40 PSI | 60 PSI | 80 PSI |
| 1/4″ nozzle, 1/8″ Orifice | 4 | 12 | 17 | 21 |
| 5/16″ nozzle, 5/32″ Orifice | 5 | 19 | 27 | 34 |
| 3/8″ nozzle, 3/16″ Orifice | 6 | 27 | 37 | 47 |
| 7/16″ nozzle, 7/32″ Orifice | 7 | 38 | 52 | 66 |
Gloves:
Abrasive Resistant, Cloth Lined, Snap-In Ports, Static Resistant Gauntlet
Hoses:
1/2″ ID. Lightweight, Flexible, Abrasive Resistant
Blow-Off Gun:
Fingertip Control Blow Off Nozzle