Clean Air America, Inc.
Engineered Solutions for Industrial and Educational Air Filtration
Used by some of the top manufacturing facilities and educational welding labs around the United States, Canada, Mexico, and around the world to create crystal clean air in facilities all while saving on energy costs, Clean Air America, Inc. specializes in engineered solutions for welding smoke, oil mist, dust removal, plasma and laser cutting, and more.
We are the manufacturer… our products, our prices, our service, our results… you won't find anything better on the market.
We are open and running at full capacity. Reach out today to get on the schedule so your filtration projects are on target!
Processes such as milling, drilling, and grinding generate metal particles. The level of air contamination varies from moderate amounts of oil mist to tremendously high amounts of oil smoke consisting of sub-micron particles, depending on the machining processes inside a facility.  Our engineered solutions protect machines and employees from these particles while purifying the air from dangerous oil mist.
The Clean Air ZeroMist™ and Clean Air ZeroSmoke™ coalescing fiber bed technology was designed to overcome inherent design flaws with competitive technologies.  Current conventional technologies of mist and smoke collection systems are not designed to handle modern CNC machining process demands with high-pressure coolant delivery, sub-micronic particulate generation, and realistic maintenance demands.  The Clean Air ZeroMist™ and Clean Air ZeroSmoke™ are application-specific solutions that can overcome these deficiencies.
Clean Air America's Products
From welding smoke to oily mist, Clean Air America offers a complete turnkey solution to fit your needs.
Fume Extractors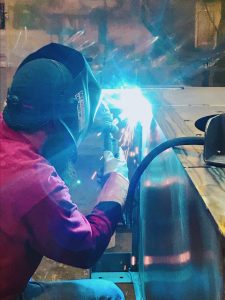 Welding fumes are internationally classified as possibly carcinogenic to humans.  Welding causes harmful smoke to form that can cause health issues for you and your employees, and deteriorates the life span of important machines such as robots, computers, and more. Air filtration is a must to properly filter out the welding smoke and particulates out of the air to help clean the air to below OSHA standards.  Clean Air America offers the industry's best engineered products to provide you the best results possible, at the best price on the market.
Clean Air America has the solution for your welding smoke filtration project, no matter how large or small your project is.
Systems as small and portable as the new BRAHM® Compact Collector Series, Down Draft Table and Portable Fume Collector, to the premier systems of the Clean Air WeldStation™ welding booths and the Clean Air BRAHM® Collector series give you a wide range of options when it comes to properly filtering out the welding smoke in your facility.  Fume Extraction Arms and custom Hood designs are also excellent options for welding smoke capture.  Each system is designed to properly filter out the welding smoke being produced during the manual welding process efficient enough to return the cleaned air back into the facility.
Smoke and debris are a given when inside a facility where robotic welding takes place.  The dense smoke produced by robotic welding requires a specialized capture solution coupled with a high level of filtration efficiency.  Certain approaches are more effective than others in reducing haze and improving overall air quality.  Typically, collecting fumes at the source (source collection) and integrating hoods with the collection system is the best approach.  To properly filter out welding smoke and particulates from the air, while maintaining efficiency and production, as well as produce clean air that exceeds OSHA standards, Clean Air America offers the ideal engineered products to give you the best results possible, at the best price on the market.
Laser welding generates a considerable amount of fumes that can cause damage to machinery and present health risks to workers. The Clean Air BRAHM® Series is a part of our series of cartridge collector products to offer the most versatile, compact, and powerful cartridge collector series on the market to target the smoke and dust, and significantly improve environmental conditions inside the plant.
The Clean Air WeldCell EVO™ is a compact, self-contained filtration system that captures and filters out the smoke and dust from applications such as welding, grinding, plasma and robotic welding cells.  This unit is completely self-contained making moving easy to do.  Need to save floor space?  This system was designed so, if needed, the entire system can be moved quickly.
The Clean Air BRAHM® Collector series requires a ducted system and is ideal for a variety of applications including; robotic welding, grinding, plasma & laser cutting, buffing, polishing, sanding, mixing operations, blasting and more.
Clean Air
Similar to the Clean Air Streamer™, this system uses push/pull technology to move air throughout an area to create a wall of clean, filtered air. This system, however, requires ducting instead of being self-contained. Louvers on the duct will work in coordination with a collector system which will take the air from the intake (pull) side, filter it out, and send it back into the facility through the output (push) side.
The Clean Air DFX™ is a self-contained ambient air cleaning system. Each unit consists of a fan, motor, silencer and filters. The pollutant air enters the system at the filter side and moves through various filters to achieve the desired cleaning. The clean air is then recirculated back into the plant. With motor sizes from 2-15 HP producing 1,500-8,000 CFM, this unit can be used in a variety of applications.
Quick Specs:
Wall-mounted or hanging ambient filtration
Used in large parts manufacturing where overhead cranes are in use
2 to 15 HP Motors available
Variety of filters available for most applications
Benefits:
Minimum space required for source capture
Secondary filtration system
No makeup air needed
No outside ventilation
Quick Specs:
CFM from 2,000-32,000
Optional low energy configuration with Synapse™ Panel and VFD
Motor: 3-80 HP depending on model
Optional Fire Suppression System
Benefits:
Cleaned air can be returned to facility
Lower total cost of ownership with lower energy costs and less filter changes needed
50% longer filter life vs. other vertical style collectors
75% better filter lifetime vs. horizontal designs
Quick access motor, blower, and filter doors
The Clean Air Cut Cell™ concept is an exclusive line of cartridge collectors engineered for high-static conditions in production laser and plasma cutting. When paired with the Clean Air BRAHM® Collector Series, this system is the most efficient on the market. Designed specifically for plasma and laser dust, Clean Air filters are engineered to effectively pulse off (clean) for an extended filter life.