Downdraft Tables
Typical applications include welding smoke, metal grinding and deburring, dust collection from plastics and composite materials, odor control from gluing and painting, plasma cutting, powder mixing, soldering, and well as finishing processes (i.e. buffing and polishing).
Filter medias can be selected to control dust from woodworking, plastics, composites, metal grinding and welding, as well as dust from mixing, batching, and weighing.
Our tables are design to exceed OSHA standards, offer quiet operation, ship fully assembled and ready to plug and play.
Dust Control Booths
Environmental Control, Inside and Outside
Dust booths offer the combined advantage of containing contaminants within the booth enclosure, preventing migration to adjacent areas, while also improving the worker's air quality and visibility by providing effective dust collection within the booth. In addition, dust control booths may be equipped with dust-tight florescent lights, sound insulation, and a regain air system to further enhance capture velocity.
Dust Collectors
Cartridge Systems
We offer the following:
Baghouse Dust Collectors

Pulse-Jet Dust Collector
Reverse-Air Dust Collector
Explosion Containment Dust Collector
Vertical Cartridge Dust Collector
Explosion Containment Dust Collector

Cyclone Dust Collectors

Standard Efficiency Cyclone Dust Collector
High Efficiency Cyclone Dust Collector
Wet Collection for Dust
If you process or finish metals that can create explosive dusts, (Aluminum, Magnesium, Niobium, Tantalum, Titanium, or Zirconium), one way or another NFPA 484 Standard for Combustible Metals applies to you. If your city has adopted the International Building code, it also refers back to the NFPA code. OSHA and your own fire and liability insurance carrier may also have an interest in your compliance to this code.
Wet Dust Collectors utilize a water-filter system to collect aluminum, titanium, mixed metals, and other volatile dusts. Meeting OSHA and NFPA regulations for dust removal located inside buildings. Wet Collectors are available in a choice of ducted collectors, self-contained downdraft tables or environmental booths.
No replacement filters required
No compressed air required
Dust collectors for volatile dusts may be placed inside building
Filtered air may be re-circulated for savings on cooling and heating costs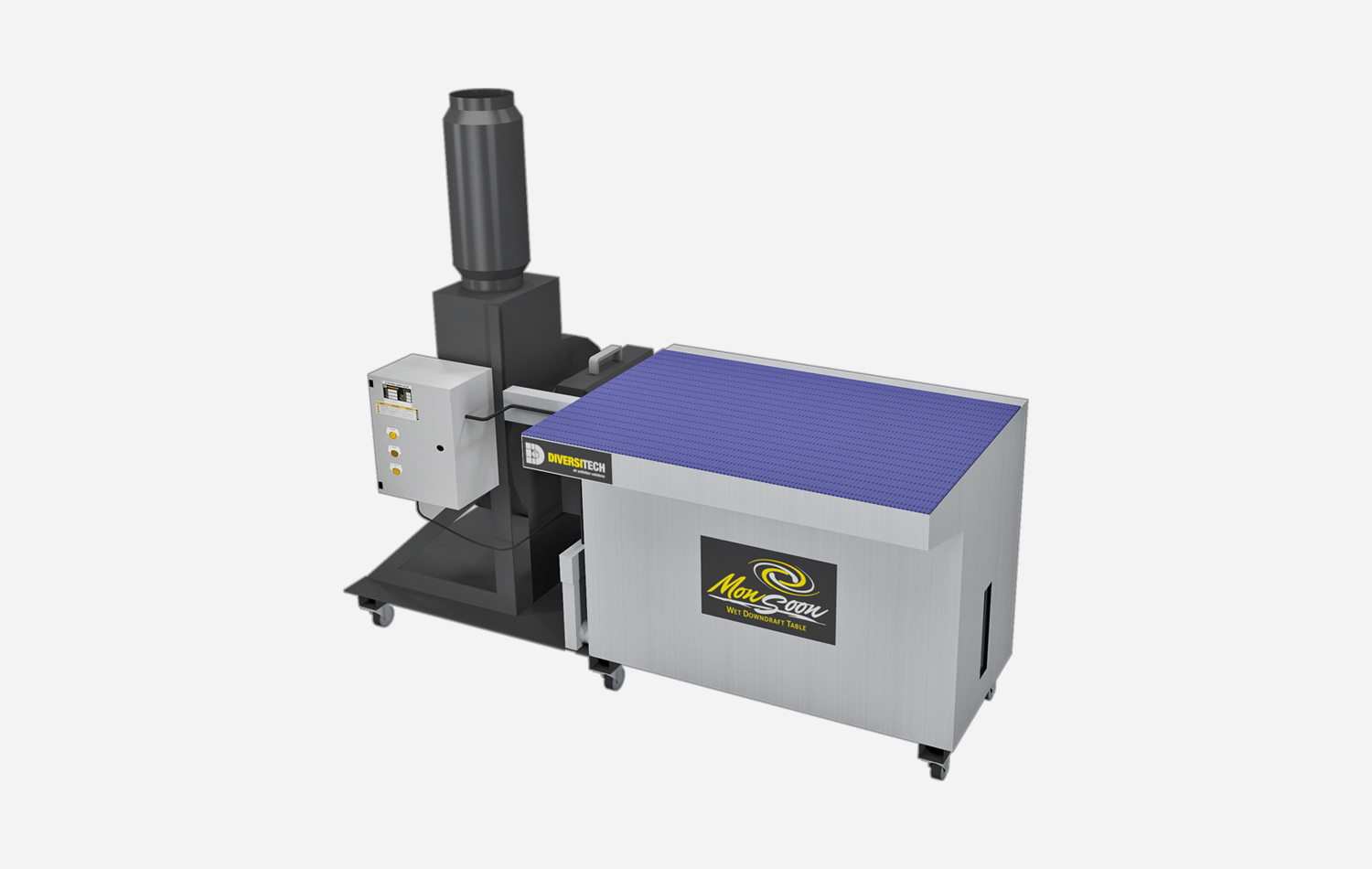 Oil Mist Collectors
Typical Applications:
CNC lathes and machining centers
Screw machines
Milling machines
Grinders
And many others that emit airborne metalworking fluid as mist or suspended particles
Smoke / Fume Collectors
Fume collectors and dust collection systems are a vital safety component to a wide variety of allied processes,  including welding, grinding, sanding, brazing, laser marking and cutting, rubber and plastic processing, high speed machining, tempering and quenching.