Exhaust stack  is fitted to this machine to equalize pressure inside of the blasting cabinet.

Front 3/4″ Npt  hopper drain valve for easy abrasive change out.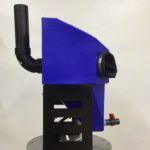 Equipment Specs
Internal Working Dims: 17″W x  13″D x  13″H
Overall Dims: 20″W x  14″D x  22″H
2 Gallons of water for operation
4-5 lbs. of abrasive
5-10 CFM Max
60-70 PSI max pressure
Small shop air compressors will run this machine
No power needed
No assembly required
VHT products are built to last at a reasonable price. Highly recommend to anyone looking at wet blast systems.
Mark S,
Arizona
Cant wait to receive my Micro Hone from Vapor Honing Tech. Ive been looking at their products for a year now and finally can afford a smaller machine.
Tim S,
Oregon
I just purchased a Micro Hone after purchasing a VH800P last year. What an awesome system this is produced by an american company. Cant wait to use this and test abrasives for other larger jobs.
Jack B
New York
Finally a product I can fit in my small workshop at an affordable price. I thought I would never be able to own a vapor blast system but here it is.
Jim T
Washington
The baddest little machine on the planet. Cannot beat the value for the money just will not happen anywhere else. Very capable product 5 stars. Thanks again VHT
James A,
Alabama
Wow, small footprint does every small job I need done and perfect for budget conscious buyers like myself.
Terry P,
California
What a small compact unit. Highly recommend 5 stars.
Jerry J
South Carolina
Vapor honing has opened a whole new door to my parts cleaning needs. Will be buying a larger machine soon. Thanks
Alex B
Virginia
Frequently Asked Questions

What's the regular maintenance on vapor blasters as a whole? Really just changing the water and abrasive that's it. Consumables will last much longer in the wet systems due to the cushioning effect.
How often do I change media and water? If you use it every other day I would change every month. If its occasional use you might go 2-3 months.
Can I mix in something to stop freezing in the winter if I don't have the unit in a place with heating? One of the most frequent questions that I dont have a good solution for other than draining the machine if you know it will be sitting for more than a week in the cold weather. I personally try to minimize mixing any thing other than water and abrasive because it can create bad finishes if it throws out the PH of the slurry.
Can I use 80 grit glass beads without clogging the pump and what kind of finish will I expect? I would only use the fine mesh glass bead it works the best with this machine but also gives the best finishes possible with vapor honing.
With the current pump on this unit is it possible to get a bigger gun for a larger spray? No, this is the best engineered setup for the pump that will perform the best.